Earl Palmer – From Blues to Rock & Roll and Beyond (Part III)
An Artist Retrospective by Dave Kropf
Part II – The Music (Continued)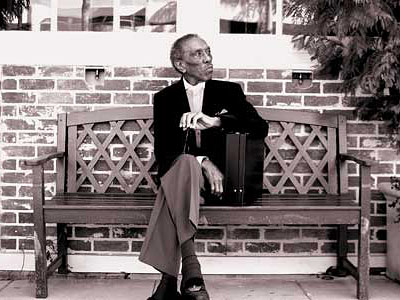 Session greats don't become "greats"unless they have an ability to blend into any musical landscape. Palmer is no exception to this ideal and Sam Cooke's 1958 cut "You Send Me"is a perfect example of how a good drummer holds down the pocket and does only what the music requires. This is a true testament to Earl Palmer's outstanding musicianship. This track, while not Palmer's first non-R&B cut, symbolizes a departure from the drummer's New Orleans influences in the studio. Pop tracks such as these were popular during the same time that Little Richard and Fats Domino were dominating the charts, but the fact that artists such as Same Cooke had hit singles demonstrates the diversification of the mainstream market. In regards to the percussion, the parts are very out of the way and in the background – a huge difference from Palmer's usual backbeat-heavy work. The track contains a light backbeat played using brushes with a subtle 12/8, eighth-note ostinato throughout. What's important to note during these sessions is how Palmer did only what was musically necessary. There's no flash, no vanity, no conceit – just simple, perfect parts that demonstrate Palmer's excellent versatility.
In 1958, Earl Palmer laid down the drum parts for Bobby Day's "Rockin' Robin."A product of his L.A.-based session reputation, this track is one of Palmer's more overtly jazz-influenced rock and roll hits. The tune starts with an open-closed, swing hi-hat pattern that he later revisits during the outro of the song. During the verses, there's only a simple bass drum lick hinting at a Bo Diddly-like riff, and then the drums go into a shuffle ride pattern with a heavy 2 and 4 backbeat during the chorus. This track also contains handclaps throughout that help to emphasize the backbeat. The form is using a simple 12-bar blues, thus giving an R&B feel to the track, but this tune is solidly in the realm of rock and roll.
Palmer demonstrates his ethnic percussion prowess in Ritchie Valens' 1964 hit, "La Bamba."Perhaps some of his work most far removed from his New Orleans roots, this cut demonstrates Palmer's continued excellent musicianship and ability to effortlessly blend into to any musical styling. The Latin percussion parts include a woodblock and congas with a drumset part in the background that consists of light ride work with bass drum. Again, Palmer only plays what is required musically in this track. It would be really easy to make a groove like this extremely busy considering all the rhythmic possibilities afforded in Latin music, but Palmer simply lays down a repeating ostinato and settles in. "La Bamba"is also another testament to the Palmer's extreme versatility.
The Righteous Brothers' 1965 hit, "You've Lost That Loving Feeling"marked a return to Earl Palmer's pop/crooner styling. What is of particular interest in this track is Palmer's percussion parts throughout. Almost symphonic in scale, the track is thick and lush with texture and Palmer contributes with multiple percussion patterns. Using tambourine, booming toms, bongos, and even timpani, Palmer creates a sonic landscape that affords new discoveries upon every listen. Although it might be hard to distinguish amongst the dense musical texture, Palmer's New Orleans roots can be uncovered. The percussion parts of the verses are in fact New Orleans second-line beats simply slowed down. The recording is interesting in that it almost sounds as if a recording engineer has taken an audio sample of a groove found in a Little Richard tune, for example, and physically slowed it down. However, the effect is more than likely simply a product of clever drum tuning and reverb technique.
By 1965, Earl Palmer had conquered practically the entirety of the music industry. There was virtually no artist in Los Angeles with whom the drummer had not recorded or performed. In his ongoing search for new musical challenges, Palmer began to do studio work for television. He has laid down the drum parts for some of TV's most beloved shows including the 1965 series Mission Impossible. The theme, written by composer Lalo Schifrin, is an energetic jazz-influenced piece in 5/4 and Palmer lays down a wonderfully subtle jazz-ride groove underneath the theme's melody. Again, demonstrating his versatility and diversity as a percussionist, Palmer brings a great sense of musicianship to the project. The 5/4 meter is not beat over the heads of the audience, and the odd time signature feels natural, thanks in part to Earl Palmer's effortless sense of time.
Part I, Part II, Part III, Part IV
Like
Thanks!
You've already liked this