DVD Review – Behind the Player: Stephen Perkins
Stephen Perkins is best known for drumming with Jane's Addiction but he's also played for Porno for Pyros, Infectious Grooves and he currently plays with Banyan. Of course, if you have seen this DVD before you would already know that because player history is one of main features of a BTP DVD. All of these BTP features have the same basic structure: there will be a BTP section, 2 or 3 song lessons, and some extras.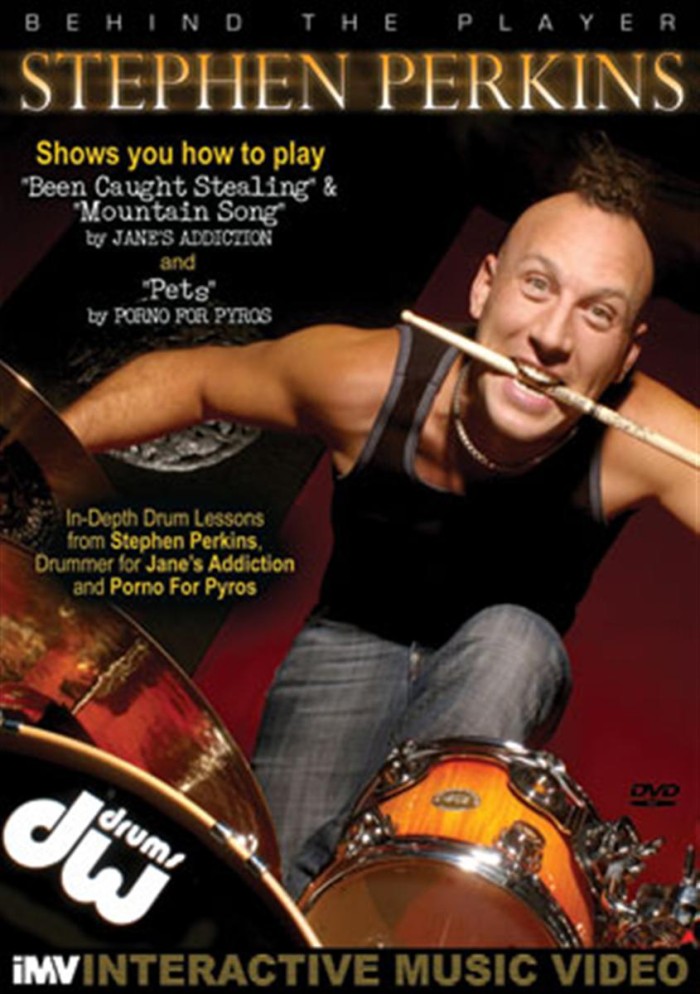 The BTP section is where the featured artist: gives you their background, talks about their lives in the band, gives general advice, and talks about their gear. If you didn't know much about the player before you watched this section, you will by the time you're done. Stephen chose to talk about getting his first drum set, the different drummers that influenced him, why he plays barefoot, and what each member of Jane's Addiction contributed to their sound.
I had heard of Jane's Addiction and Stephen Perkins before I rented this video but I had not listened to much of their music before. I can now say I'm a fan of Jane's Addiction and it was this video that really introduced me to them. Two of the three songs that Stephen demonstrates were songs that were just right up my alley.
Speaking of which…
All of the BTP DVDs are focused on teaching the viewer how to play 2 or 3 tracks the artist played on. In this case it was: "Pets" by Porno for Pyros,"Been Caught Stealing" by Jane's Addiction and the infinitely awesome "Mountain Song" also by Jane's Addiction. Each song lesson has three sections: the actual lesson, an album track play-along, and a jam on the song with a bass player.
Presentation
Stephen Perkins is a great host and that's what really makes the DVD. He articulate, easy to understand, enthusiastic, and he knew how he wanted to teach what he had to teach. Not all of the hosts of the BTP videos I've seen so far have been as effective with their allotted DVD time.
I like the three pronged approach they took with each because it shows that the different dynamics at work when you play to an album and when you play with another human. They definitely give you all you need to learn the song inside and out, so I say it's a successful effort on their part.
Extras
BTP videos seem to be pretty weak in the area of extras. This one has a promo video for Banyan and a live version of "Mountain Song" that I must admit I could jam to all day. All of the BTP videos feature the same little promo video for Little Kids Rock so that's in there too.
Overall, I think the Stephen Perkins BTP DVD was successful and sets the bar for what a BTP type of video should be. It's not an in-depth guide to all things Stephen Perkins. It's an introduction to: him, his music, and the music he's been a part of. So if that's what you're looking for that's what offered. I think it was definitely worth a rent just for the sake of expanding my musical horizons, but, because of its narrow focus and its brevity, I don't think it's worth a buy.
Like
Thanks!
You've already liked this