Steve Smith Interview over at Mike Dolbear
Mike's done it again with a fabulous and in-depth interview with Steve Smith. The article is complete with pics, and some pretty rare video finds.  Here's a little taste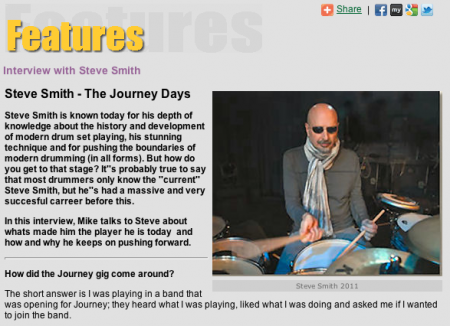 How did the Journey gig come around?

The short answer is I was playing in a band that was opening for Journey; they heard what I was playing, liked what I was doing and asked me if I wanted to join the band.

I feel like I need to give you a little more background and give you a more complete answer. Growing up in the 60s I was very involved with playing big band music and small group jazz. I started playing drums in 1963 when I was 9 years old and my teacher was a big band drummer. I didn't get interested in rock until I heard Jimi Hendrix in 1967 with Mitch Mitchell playing drums and then I heard Ginger Baker with Cream. At that point I started to enjoy listening to rock music. I did play some rock with a few local bands during my teen years in the Boston area but my main focus was playing jazz.
I was a student at Berklee from '72-76 and during summer breaks in '74 & '75 I did some touring with the Lin Biviano Big Band. Lin and most of the members of the band had toured and recorded with Buddy Rich and Maynard Ferguson. In fact most of that band play on the classic Buddy Rich album called "Rich In London,"recorded in 1971 live at Ronnie Scott's. In 1976 I left Berklee to join Jean-Luc Ponty's band, which was a jazz-rock fusion band.In those years fusion was still a relatively new style of music. When I first played with Ponty I was using a small Gretsch jazz drumset. The kit didn't work with that music because it was too small, the band was very loud and powerful and in January 1977 I started to play Sonor drums.
Like
Thanks!
You've already liked this