Book Review: "Sittin' In with the Big Band" Vol I
Sittin' In with the Big Band is a music minus one type of series of big band arrangements written in a variety of styles ranging from swing to Latin, and from funk to rock. With killer tracks, fun arrangements, and a few challenging charts, it's a great addition to your shelf!
Breakdown
Published by Alfred Publishing (ISBN: 0-7390-4520-2), the 28 page book features 11, top-quality tunes. Each of the arrangements comes with very well-written, easy-to-read charts. The accompanying CD has both full length mixes minus drums as well as complete demos for inspiration.
In terms of cost, this is one of the cheaper play-alongs, coming in under $15. Considering you get a full-length CD that covers 22 tracks (minus plus demos), it's a lot of bang for you buck.
Track Rundown
"Vehicle" – Aa rock track that is an arrangement of the song of the same name by "Ides of March." This is a fast funky tune with a nice B-section breakdown. Not a lot of hits and punches here, but plenty of stops and starts.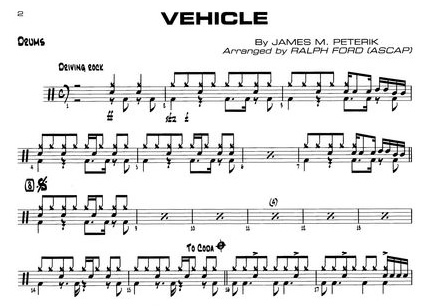 "Sax to the Max" – This tune is the bread and butter of the book! It's easily one of the most solid tracks in the collection and has plenty of fun punches to both set up and hit! I especially love the "real world" horn cues.
"Nutcracker Rock" – A somewhat cheesy arrangement of Tchaikovsky's "Nutcracker Suite," this is a track cut out of the same Brian Setzer cloth that was part of the swing resurgence of the early 2000's. It's not the most challenging of charts, but the groove variations keep things interesting.
"Fiesta Latina" – An easy-going Latin track that's not going to really challenge your salsa chops. It's more rock than mambo, but that makes it a little more accessible for the younger player. The D.S. and Coda help this to be one of the longer tracks from the book clocking in at nearly 4 minutes.
"Now What" – A pseudo, modal track loosely based on Miles Davis' "So What." There is a lot of space to explore here, and the chart gives you plenty of room to stretch. This is a fun one, and more advanced players will find a broad playground to run around in.
"Goodbye My Heart" – This is a nice, easy ballad track that is as much an exercise in chart reading as it is playing. It's a good chart to have in the book because you will see tunes like this on gigs. Don't let the simplicity fool you – there is an art to performing ballads convincingly where they don't devolve into snooze-fests for the audience.
"Two and a Half Men" – I'll try not to let the fact that this tune is the theme from a wretched, vacuous TV show that has lonnnng since run its course tint my opinion of this tune. This track gives you the opportunity to dust off those brush chops. However, like most big band charts that indicate brushes, the written notation is of little use (music theater is especially lousy with this). As with the sitcom, this chart outstays its welcome and should be considerably shorter.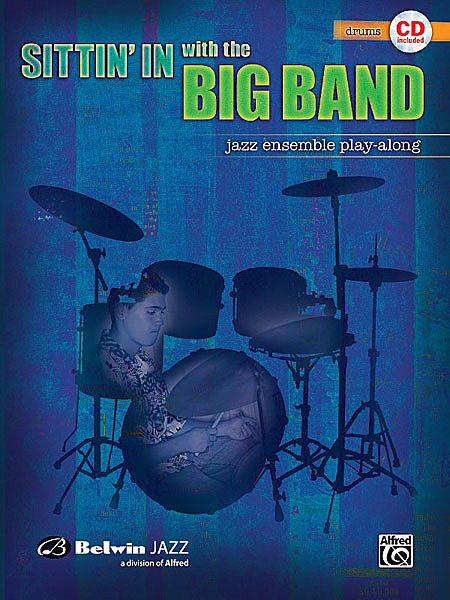 "Burritos to Go" – Another Latin rock track to get you in the vein of Latin without needing a passport. As with "Fiesta," this track won't require a deep lexicon of Latin grooves, but it does at least explore some clave rhythms.
"Drummin' Man" – Another arrangement of a well-known tune, this chart is a bit of a throwback to 30's-era swing. It's a fun tune (although a little too slow for my taste), with lots of little hits and set ups. Did I mention solo breaks?! Gene Krupa, the Drummin' Man himself, would approve!
"Swingin' Shanty" – Don't let the chart's indication of "Bright Swing" deter you. This isn't that brisk of a track, and has a lot of opportunity to open up. The B section helps to mix things up a bit and is a nice change of  pace.  Know this, though: it swings – hard – and you'll find yourself making plenty of involuntary stink faces. Play this one like Art or Elvin would!
"Play that Funky Music" – A big band arrangement of Wild Cherry's "Play That Funky Music," this track is heavy and funky! This chart is on rails, and there's not a lot of room to stretch, but then again, there doesn't need to be!  It's a funk tune! Oh, and be sure that you bring a cowbell along!
Pros
Out of the gate you'll be blown away by the the amazing quality of the backing tracks. These are not hokey, MIDI programmed backups like you'd find in awful karaoke. These are professionally recorded tracks that feature a hot band that absolutely kills it!
"Sax to the Max" demo track
Besides the lush arrangements and backing tracks, I also found the charts extremely easy to follow with well-labeled navigation and straight-forward notation (although a drumset notation key would be handy). On top of that, the performance notes for drummers give you tips on big-band drumming as well as points of interest  for every chart. I like that the book knows its audience!
Cons
If anything, the charts are somewhat inconsistent in terms of difficulty. Perhaps it's because of the varying styles, but there's no real linear curve as you progress through the book. This isn't that uncommon when dealing with a book of repertoire, but you can expect some laughably easy charts ("Nutcracker Rock," "Burritos To Go,") as well as some pretty challenging charts – if played correctly ("Sax to the Max," "Swingin' Shanty"). Also, I wish more charts had cue notation as is found in "Sax to the Max."
Final Verdict
If you're looking for a good selection of big band tracks to practice your styles and chart reading chops, this is a great place to start! It's not the most exhaustive of collections, but the top-notch quality of the backing tracks will serve you well. The charts are well-written, easy to read, and will work for most intermediate students. Beginners could hang with some of the easier charts, but they might have some trouble with the notation and navigation. I give it a very solid 4 mics.

Like
Thanks!
You've already liked this