Jason Sutter, "From Brushes to Blast Beats" #PASIC14 Live Blog
With music degrees from North Texas and Miami, Jason Sutter probably doesn't seem like they type of drummer you'd find behind the likes of Marilyn Manson or the New York Dolls, but his background in rudimental percussion ends up coming in very handy on the road with hard-hitting acts.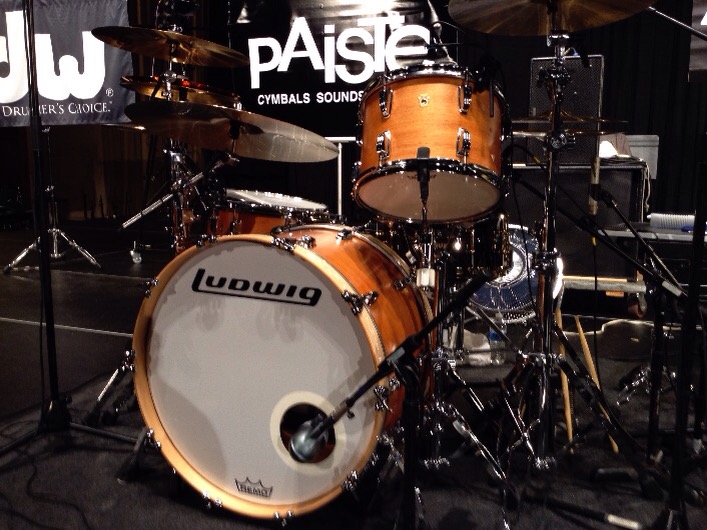 Opens by playing a Foreigner tune, "Double Vision", then into a Marilyn Mason tune. The third song is a solo to an original keyboard accompaniment.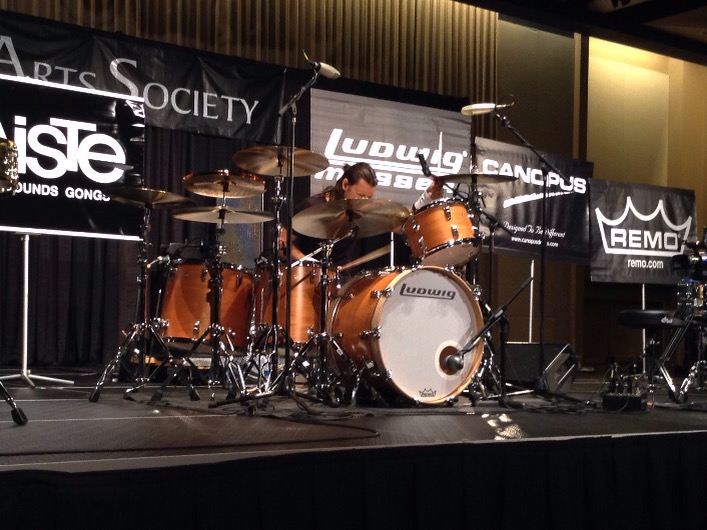 This is loud and fast!! No click on the Foreigner track. It's elastic as is evidenced by the era.
The Marilyn Manson tune is to a click. More metal influenced. Stick heights behind the ears.
How do you go from gig to gig? From one world to another? I was studying with Jeff Hamilton on brushes while on tour with Marilyn Manson!

The more diverse you are, the more you'll work. Diversity and adaptability is key. In North Texas I learned the value in speaking the rudimental language, and I spent the first your steeping in marching percussion.

Learn how to learn. I studied with everyone I could and I learned how to emulate them. I then moved to marimba. It can be anything in life out of your comfort zone and mastering another art form. All these things I studied helped my career as a commodity as I got quicker and quicker at adapting out of my comfort zone.

The more you work on it, you get it in your head, then hands, then your heart.

When I have drummers ask, ,'how do I separate myself from other drummers', I thought rock and pop is easy, but there's a fine line between what makes a good drummer and a great drummer.

Time. There's more than just perfect time on a a grid on ProTools. It's also important to play with some elasticity. There's a certain amount of grease. Playing to feel and not click,.

If you can play to a click and play with this elasticity you've got it covered

Sound – Your sound is such a great part. It will separate you from all these other drummers. Sound comes from your stroke. I can pull from different techniques. Drum heads – It makes such a difference, being aware of your sound and experimenting. The more you experiment with your

Feel – Tough thing to discuss. 90% of why I get the gig is feel. When I play it felt right. It's hard to describe, but it ties into your time and sound. You have to mention Bonham. No one talks about his hi-hat! Swing in his hats is a big secret of John Bonham. You can dictate pulse and feel in the hats.

Auditions are like the 3 Little Bears. The first guy doesn't have the right feel,, the second guy is too soft, but the 3rd guys is just right.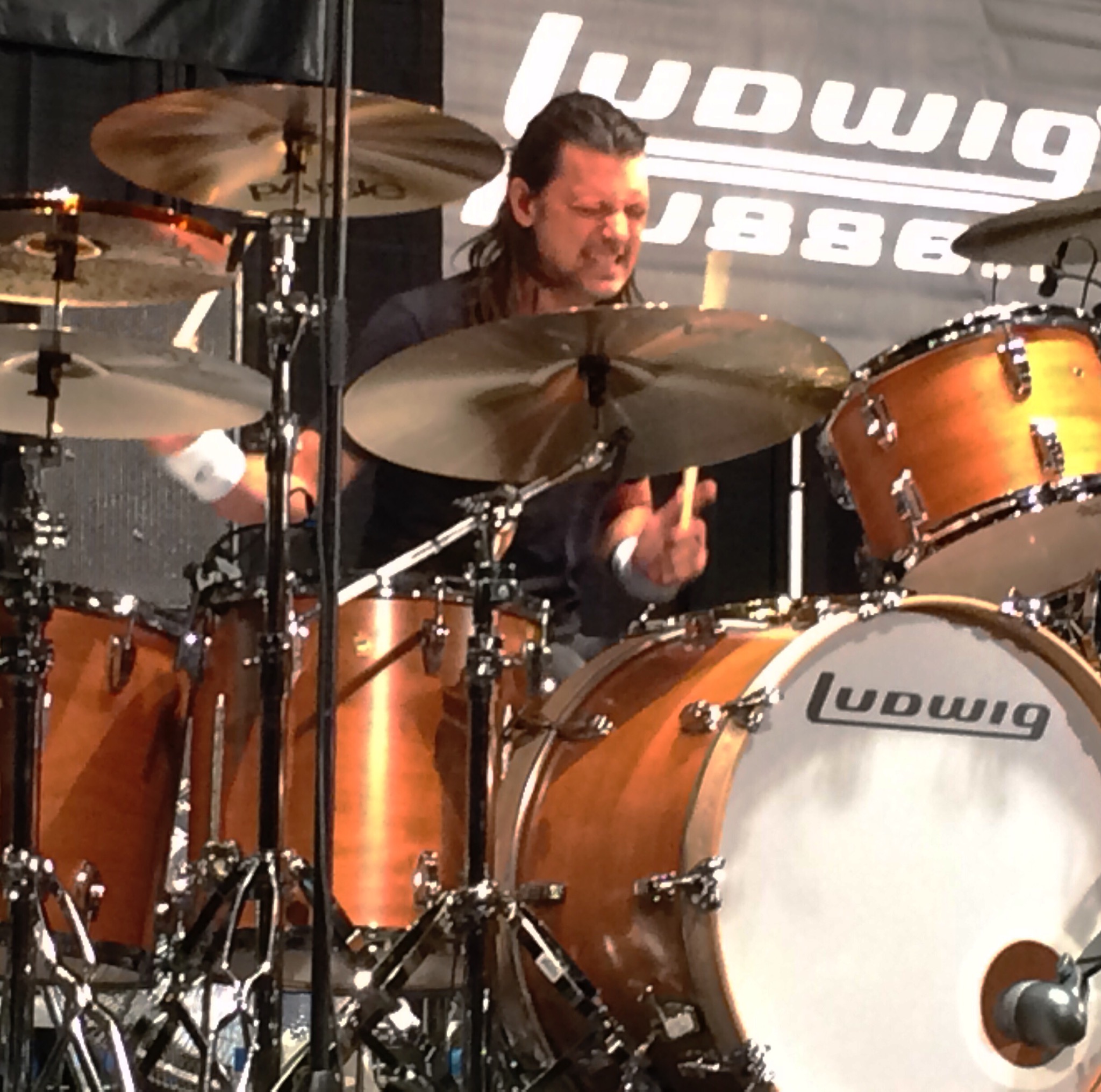 Plays Smash Mouth tune that demonstrates elasticity and feel.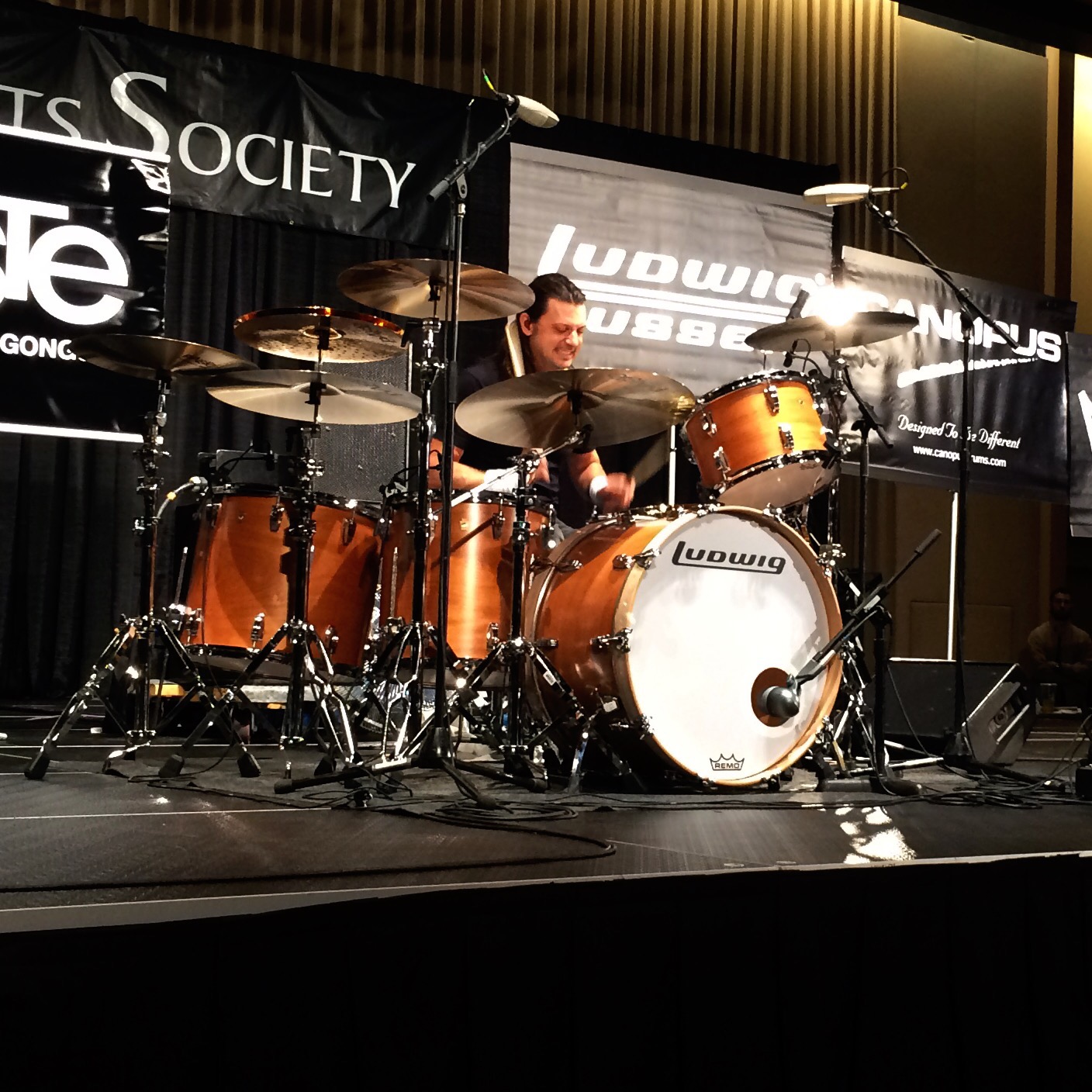 Plays a more RnB track by Chris Cornell. Demonstrates diversity and adaptability.
When I finished the tour with Chris, I started learning double bass, and wondered if I could get a gig with a metal band. I then got the gig with Marilyn Manson. Within days, I had to fool them into thinking I could play double bass and then I had to play catch up.
Demonstrates 16th note rawrrr double bass groove (that goes on for 5 minutes in the actual tune). "Fake it til make it" means diversify until you assimilate.
Moves to the snare drum, Performs "Hands of Doom." Dedicated to Ralph Hardiman, Marty Hurley, Tom Float.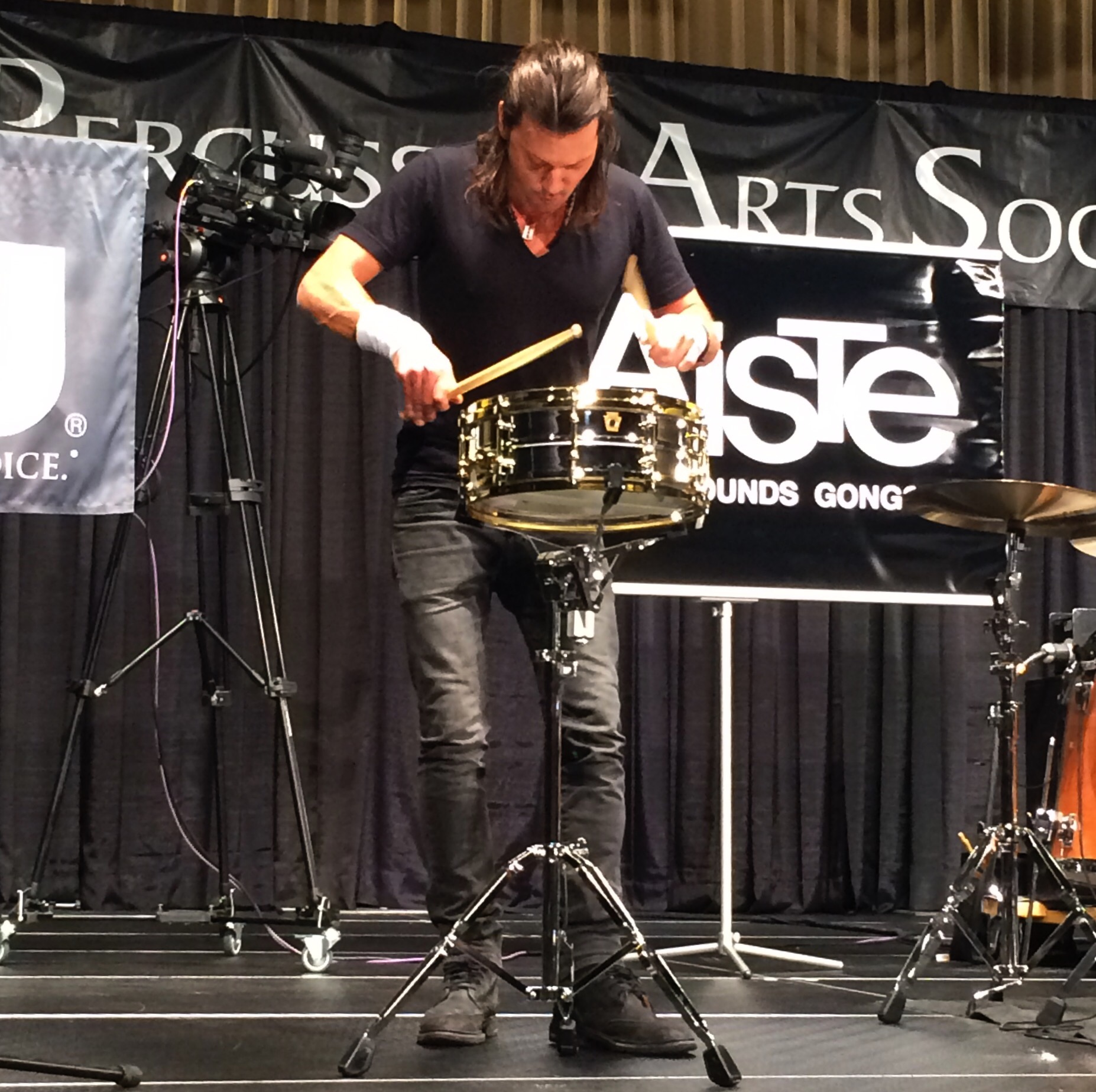 Performance of "Up Jumped Spring" on brushes. Amazing range and brush technique.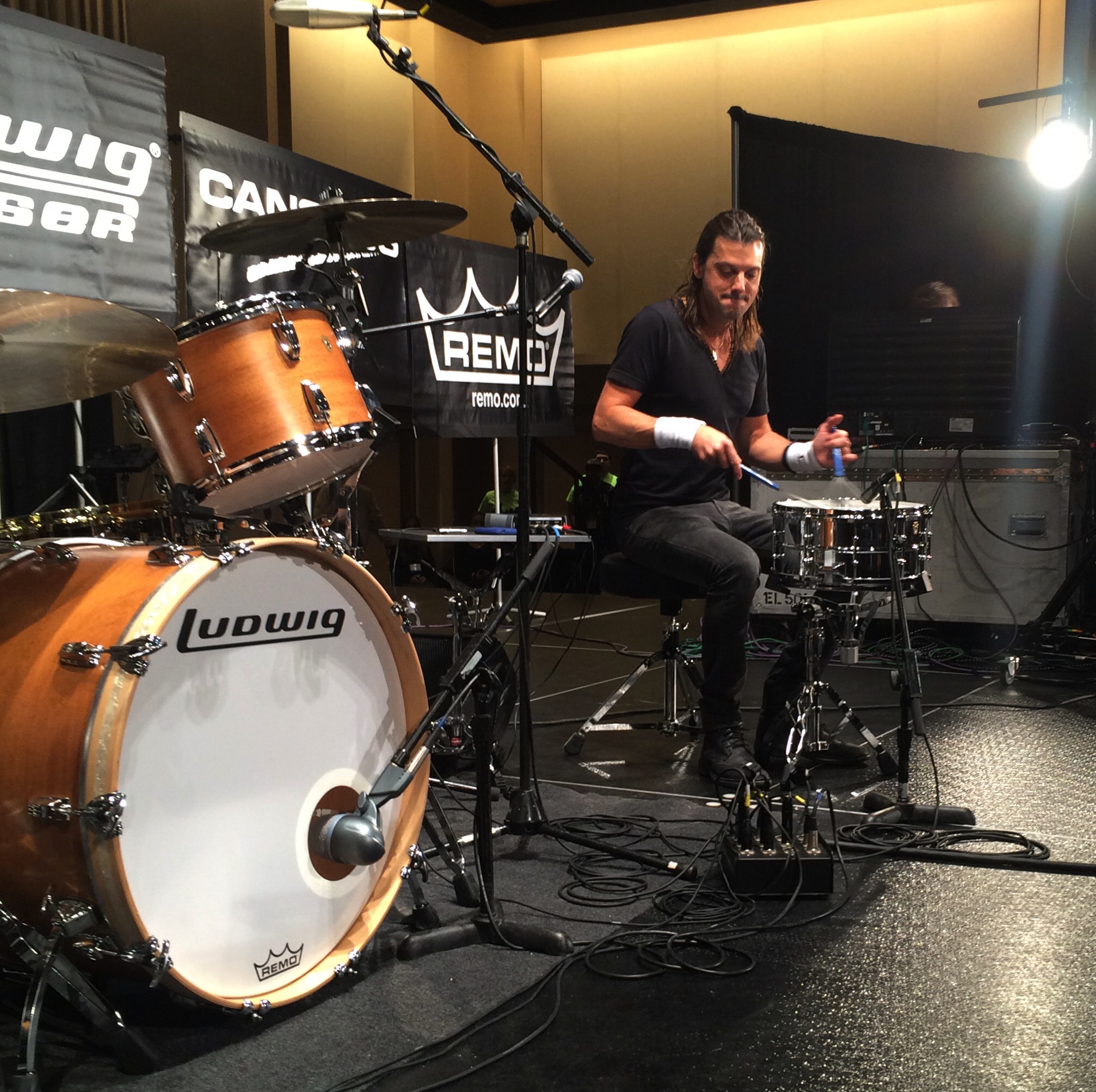 For a clinic that went from rock to metal to RnB to drum corps to jazz, Jason's done all of it amazingly and convincingly well. He is as diverse as he claims.
Ends clinic called "Beelzebub" by Bill Bruford.
Like
Thanks!
You've already liked this