Gear Review – Istanbul Agop 24" Xist Ride
Big, big, and bigger! Large cymbals and large drums are making quite a comeback in the modern drummers arsenal these days.
Breaking out your 18" floor toms and 24" kicks has become quite the fashion in the Modern Music Industry, and what's a big drum set without big cymbals to match!?
If you've noticed your smaller diameter cymbals aren't washing quite the way you want them to, or are curious about the fuss of big cymbals, lets take a minute to examine this 24" Istanbul. I believe that this cymbal in particular embodies every quality you would want in a 24", and leaves nothing wanted.
First Glance
Trending throughout most every drum and/or cymbal companies catalog currently, is the melding of vintage style with modern approach. Where as this concept most directly applies to sound, it certainly grabs ahold visually. Long known as one of the most prestigious cymbal makers, the founder of Istanbul Agop began making cymbals at age 9 in the early 1950's. His ideals are carried on today by the expert cymbal smiths that remain at the company. The 24' Xist exhibits a timeless traditional finish, that begs to age and patina.

The new "Xist" Logo is simple and clean, giving this piece of metal a very sophisticated look. Its size is an attention grabber, and is sure to turn heads. In the best way, of course. With the combination of a definitive finish and modern branding, the cymbal certainly suits today's tastes.  
Sound
Generally, big cymbals equal big sound. The principle applies to this Agop, and suits the character of the cy
mbal. Articulate, Washy, yet subtle, are words I would use to accurately describe its tonal characteristics. When struck with the bead of the stick, a distinguished tone is emitted. Familiar sounds of Bebop and Cool Jazz are brought to mind, as the body of the cymbal projects clear stick definition while sustaining a warm wash. The bell's characteristics intrigued me, as it produced a cutting clear attack. However the overtones seemed to sustain and then fade into the body, creating a unique contrast to other "raw-bell" or brilliant cymbal bells.
When struck with the shoulder, in crash-riding, the Xist produced the type of frequency bed very appealing to my ears. The crash is low and powerful, opening up only as much as the force of your stroke allows. On the contrary, playing the cymbal at a low volume gives a subtle sound, able to blend with the softest dynamics and retain its rhythmic accuracy. As a reference, I would compare the "ping" to that of a thinner Zildjian traditional A, Or K, and the wash to be similar to a Constantinople or thin Paiste masters.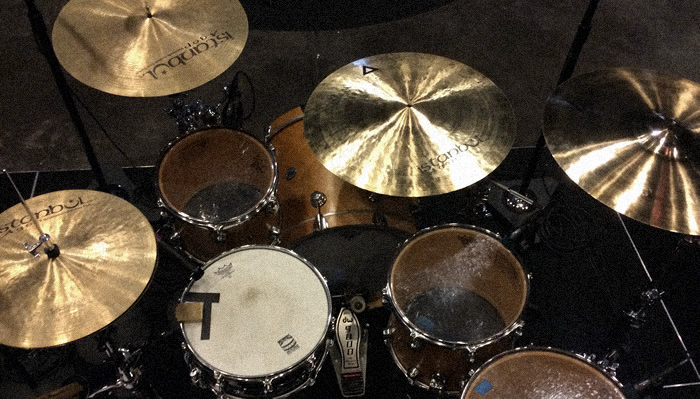 Application
Surprisingly diverse for such a large cymbal, its musical context could be stretched over a variety of genres. First I would refer this cymbal to drummers playing Indie-rock or a hybrid blend of Singer/Songwriter and folk, as well as Rock, Contemporary Praise and Worship, and Jazz. With the blending of Genres becoming ever more popular, similar applications could Easily fall in country music and blues.
However I think that its only fair to mention that another exciting trend emerging in the drum community is the application of unorthodox tones. Whereas I would not suggest this cymbal to Metal or Pop artists, there certainly could be a use for it in these contexts. The growing electronic music culture I think could find appeal to this product for its power and "crashablity". My advice would be to reference the tonal characteristics of this cymbal to your own playing, and seek an application for it then.
Pros
Definition, power, and application all turn in favor of this well crafted cymbal. With clearly defined Stick Definition, no stroke becomes lost in this monster piece of metal. Even while crashing, if the bead of the stick is allowed contact with the body of the cymbal, the articulation of the stick still carries through the wash providing a precise wall of sound. With ever increasing builds and dynamic phrasing in todays music, the need for a wildly dynamic cymbal is evident. This Agop suits the subtlety of a cafe combo, and the muscle of an arena headliner.
Cons
Just because this cymbal can open up to become a wash-monster doesn't mean it needs to. The fact of the matter is that this cymbal can be definitively too loud. One would hate to arrive to Sunday morning rehearsal, or Thursday nights coffee house gig and be berated on volume. With the correct touch the cymbal gives you what you need. I would warn you to be wary of its size though, as is common with most large cymbals, for its possibility to overwhelm a band. Think of it in relation to a fast car. You may be tempted to speed, but that may not be a good idea in a subdivision (If you catch my drift).
The only other downside was one easily forgotten; The Size of your cymbal bag. Standard Cymbal bags or cases generally come in a 22" or smaller size. There are quite a few brands producing 24" bags, but are significantly more expensive across the board. I won't say that any of the prices are inflated to an absurd extent, but paying for a case on top of a top tier cymbal may just break your bank. There's no use lugging around your brand new Agop separately from your well-trusted cymbal case. Maybe at the time of your purchase, a new bag is well overdue (as I know mine is). Just as a suggestion, take into account the means of protecting your gear while making new purchases. 
Bottom Line
Cost +/- $350
For want of a new classic cymbal to your sound palette, I would highly suggest this Istanbul Agop 24" Xist Ride. Personally, my application would position this cymbal as my primary ride, and would consider it my main workhorse. Accurate enough to swing, I feel as if this Agop can handle whatever I dish out. With many gigs I play relying on the crash-ride technique, I particularly enjoy its low crash tone, so that other accents pop above its sustain. Obtaining such a marvelous cymbal for under $400 is serious sound at the players price.

Like
Thanks!
You've already liked this