Drummer Talk 243 – Examining Modern Drummer's 12 Debunked Drumming Myths (Part 1)
Dave and Troy take a look at the first 6 drumming myths debunked on Modern Drummer.
Miscellany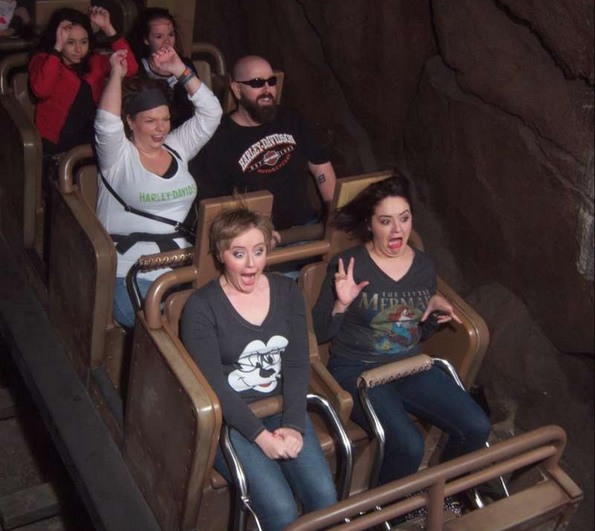 Dave Rides Everest at Disney's Animal Kingdom
Watch Twitter every Wednesday for our giveaways
Drummer Talk Mailbag
From Stuart:


Hey Dave- I was just listening to episode 240 on my way to work. Your words about your father being supportive of your drumming brought some memories for me. I remember being 11, in 1985, and getting a drumset as a big Chanukah surprise. I was out, and then came home, and a new 3-piece starter kit was all set up by my father upstairs in our house. I've since moved on to other kits (a Tama, and now 4-piece Gretsch), but will always remember this nice gift as a gesture of complete support from my folks.  I wish you well in your difficult time of grieving.

From Bill:


My only exposure to athletics in school was being harassed by jocks who thought I was weak because I wasn't one of them. Jim Rome just qualifies himself as one of those subjugate and divisive types that are responsible for much of the world's problems today.

From Josh:


Hi guys. Just wanted to give you my 2 cents on RomeGate. I actually listen to his show and yours. It didn't sound like you all were familiar with his show so here's a couple points: He's not really a shock jock. He does a call in sports show but there isn't anything really shocking about it. The Jim Everett thing was over 20 years ago. He has since talked about what a mistake that was. The article you read by Brian Wis talked about Rome as the "Alpha Dog" jock making fun of band guys, but that's not accurate. Rome was never an athlete and 99% of the time it is athletes who are the butt of his jokes. His show is mostly about sports and he makes jokes about the people in that world. But my actual point is not to defend Jim Rome. I just think the whole thing was overblown. Whatever happened to sticks and stones? We need to have thicker skin than that and stop looking for reasons to get offended. People aren't doing themselves any favors by getting upset over a tweet from some guy who they probably hadn't even heard of before this. Being called a dork is about the mildest insult there is. Maybe it was a bad joke, maybe he really doesn't like marching band; Who cares? If you don't like what he has to say, you don't have to follow his twitter feed. To call the guy a bully like Brian Wis did is way over the top. (The word "bully" is highly overused by the way.) I'm not feeling sorry for the guy, but all the people coming down on him to shut down an opinion they don't like is closer to bullying than Rome's one tweet. Anyways, just thought I would share another viewpoint.
News
Topic Notes
Music from this week's Show:
In closing…
Find out when new articles and next episodes hit by following us on Twitter (http://twitter.com/drummertalk) and Facebook (http://facebook.com/drummertalk)
Want to support Drummer Talk and help us to continue to bring news, reviews, articles, transcriptions, and videos to free to you? Please consider becoming a Drummer Talk patron. You can find out more information including patron rewards (like shout-outs, stickers, T-shirts, and more)  at drummertalk.org/support.  Patron levels start at just $1. Remember, every donation helps keep us on the air and ad free!
Have a topic suggestion or question for the show?  Let us know at www.drummertalk.org/contact
This episode of Drummer Talk is brought to you by our sponsor-level patron, Drum Concepts, maker of the revolutionary Switch Kick quick release bass drum beater system. Find out more at drumconcepts.com.
Next week: NAMM 2015 Recap
Feb 3: Examining Modern Drummer's 12 Debunked Drumming Myths (Part 2)

Drummer Talk 243 - Examining Modern Drummer's 12 Debunked Drumming Myths (Part 1)
Play Now
|
Play in Popup
|
Download
Like
Thanks!
You've already liked this