yyz
No, I did not film this, but this guy had amazing seats!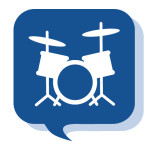 Ok, there's no drummer, but this is still well done!  And you have to give props to the drum programming.
Bobby Standridge has done an amazing job of animating Neil Peart and his performance of YYZ – every lick!
Find out more over at BobbysBrane.com